In Mormon beliefs, the body is sacred and is considered a temple of God. How you dress should reflect the respect that the Lord has for you and that you should have for yourself.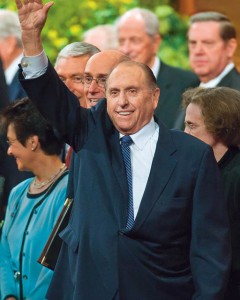 Prophets of The Church of Jesus Christ of Latter-day Saints, commonly called the Mormon Church, have always stressed that what we wear should be modest, fully cover the chest, shoulders, and midriff, coming all the way down to the knee, and never being too tight or sheer. As society and the media pressure women into thinking the only thing that matters is their bodies and showing them off, it is important to remember the reasoning behind the principle of modesty. Each human being is a creation and a child of God. He has taught and commanded that we each have a divine nature to become gods and goddesses ourselves, if we obey His commandments. Abstinence before marriage and fidelity in marriage are encompassed in one of His most important laws: chastity. Modesty helps us remember the importance of this law and shows the world that we are serious about keeping it.
Beyond modesty, appearance is also important. Tattoos and body piercings should be avoided because they disfigure the body (sometimes permanently). Women can wear one modest set of earrings, but are counselled to only have one set of ear piercings. Hair cuts and styles should be clean and not extreme.
It is also good to exercise good manners and keep a neat appearance, practicing good hygiene and taking good care of our bodies. We should strive to make other people comfortable around us, while putting our best self forward. It doesn't show much respect for others when we neglect manners or how we present ourselves; it also doesn't show much respect for ourselves. We can lose opportunities we might otherwise have had if we look or act like slobs.
The line between "being yourself" and "being acceptable" might seem hard to define sometimes, but remember that you can express yourself in unique ways without running to extremes. It is pleasing to the Lord to see us care for our bodies and to protect them from the wrong kind of attention.