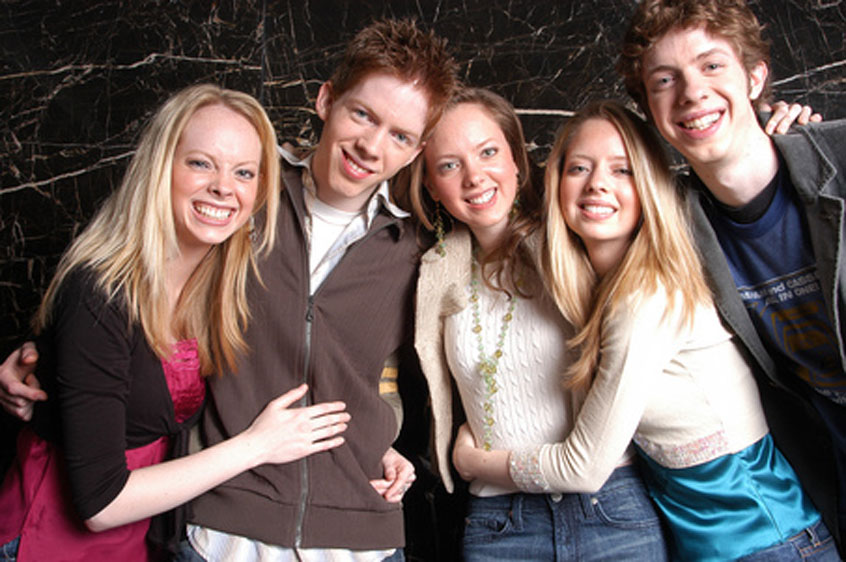 When people think of classical music concerts, they used to think of quiet, stodgy music played by elegant musicians in tuxes and evening gowns to an older audience. The 5 Browns changed that. These five young adults, all siblings, alternately wear evening clothes and jeans in their concerts. About half their audience is regularly teen or young adult, with some dressed up and others in casual clothing. The Browns play classical music, but it's shorter, more popular, and played with wild enthusiasm and lively showmanship. No one gets bored or falls asleep.
The Browns are Mormon and the press has noted the siblings are very close and very clean-cut. Being clean-cut and moral has not hurt their reputations at all, with their concerts regularly sold out and their albums topping the chart. They have a popular Facebook fan page.
They are even more unusual in that they all play the piano. The parents admit they would have taught them all different instruments had they been planning ahead, but at the time, they just wanted their children to appreciate music. Before they were even out of grade school, they were accompanying the church choirs. Their practices became so intense the parents worried because their children were too busy with school, music, and church. They had no time just to have fun and be kids, so the parents switched to homeschooling, which is more efficient because you don't have to wait for the other students to catch up to you or do the small things that take up a lot of school time. With this new plan, the children had all afternoon to play, while still getting their school work done and their music practice in.
After the two oldest girls started attending Julliard, a prestigious music school in New York, they wanted their siblings to join them. Since their siblings were still in high school, the parents moved to New York also, rather than assigning their children to a guardian, as did most families. Eventually, the parents were forced to return to Utah, due to New York's high cost of living and the cost of having five children at an expensive school. By then, most of the children were adults, and the youngest son commuted back and forth by plane each weekend, living under the care of his siblings while in New York.
It was having five siblings at Julliard that that started their path to fame. The media heard about this unusual piano playing family and started doing stories about them. It started with the BBC and went on to Oprah and other popular television programs, until almost everyone had heard of them. The youngest son was offered a chance to be in a boy-band, but his father turned down the offer. Most offers they received were for pop music, but they are classical musicians and weren't interested in turning into a rock band.
Eventually, they performed for a large group of record label executives, playing the classical music they loved in the youthful fun way they had perfected and everyone wanted to sign them. They chose a label and the tours and albums began.
You'd think, spending so much time together, the siblings would be constantly fighting, but they aren't. They love being together and being a brothers and sisters. Mormons are taught that families aren't just something you have while you're on earth. They can also be part of your lives forever, so Mormons tend to work pretty hard at getting along with their families and becoming close friends. The Browns are a real example of how you can be siblings and friends at the same time!