Have you ever daydreamed about being a hero? In the 1800s, the Mormons were forced, because of persecution, murder, and hatred, to leave their homes and move to the Utah desert. It was a long, hard journey, often made by walking the entire distance, but it gave many teenagers the opportunity to become heroes. Their stories are still told today.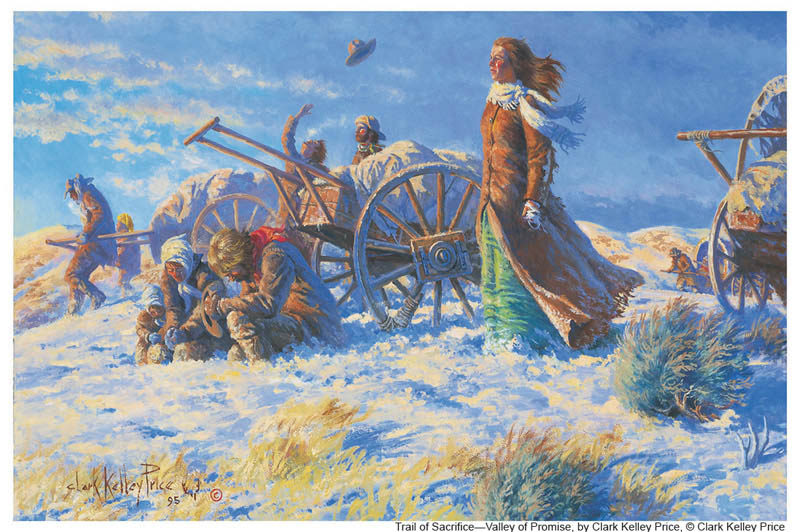 The Martin Handcart company had more problems than many of the companies. They were so desperate to reach Salt Lake set out too late in the year and storms came early. They had been advised to wait, but they were anxious to get started in a safe new home. They ended up traveling in the cold of winter, when it was hard to find food or to stay warm.
In October 1856, Brigham Young learned they were in deep trouble. The semi-annual conference was about to begin, so during the conference, he asked for volunteers to form a rescue party. The rescuers found them, bringing food and help. However, by the time they reached the Sweetwater River, the people in the Martin Handcart Company were very weak from having been hungry and cold for so long. The very deep, wide, and icy cold river was more than they could handle and they were afraid their journey would end right there, because they weren't strong enough to cross it. Three teenage boys from the rescue party, George W. Grant, David P. Kimball, and C. Allen Huntington, took matters into their own hands and decided to carry people across. Those three boys carried almost every member of the handcart company themselves. However, this came with a price, as heroism often does. They became quite ill themselves from the strain and the challenges of spending so much time in icy water with heavy loads. Eventually—years after their heroic actions—they all died from complications of that day of heroism. Brigham Young was moved by their sacrifice and cried when he learned what they'd done.
Mary Goble was a teenager in the Cluff Wagon Company, which was to follow the Martin Handcart company in order to help them as needed. Because they had wagons and not handcarts, they had better supplies and more options open to them. Her heroism came in the form of helping her mother. Her mother became very sick during the journey and the company was traveling in an area with no water. They'd been able to melt snow sometimes to have something to drink, but Mary's mother longed for water from the freshwater spring a few miles away. Mary set out to get it for her, traveling with a woman from the company. As they were walking, they found a very sick man. He was old and unable to move. They knew he would die of frostbite soon if they didn't get help. Mary continued on to get the water and the other women went back to the camp to get help for the man.
Mary was naturally frightened to find herself all alone in the woods. The travelers were afraid of the native people and Mary was so busy watching for them she lost track of where she was. Soon she realized she was completely lost in the wilderness. The snow was all the way up to her knees and it was almost midnight before search teams found her. They tried to treat her frostbite.
Mary's mother died just as they entered the Valley and they carried her body in the wagon the rest of the way. Already, three of Mary's younger siblings had died during the five month journey. When they arrived that evening, they were quickly given shelter and food. Brigham Young himself came to greet them the next morning. Tears filled his eyes when he saw Mary's frozen feet and learned her mother was dead. A doctor was sent for who had to amputate her toes because they were unable to be saved from the frostbite. Naturally, this was traumatic for her, but Brigham Young made a prophetic promise to her the rest of her feet and her legs would heal. It didn't seem at first like this was going to be true. She continued to get worse and the doctor told her he needed to amputate her feet. She refused, remembering Brigham's promise and having faith in him. The doctor was amazed, a few months later, that she was completely healed.
Sometimes a hero is just someone who keeps on going, doing what needs to be done even when their hearts are breaking and their bodies are weak. This was the case with Maggie, age thirteen, and Ellen, age nine, who left their home in England to come to be with the Mormons, whose religion they had just joined. The Pucell family immigrated to the United States on the same ship that brought Mary Goble.
They found, when they arrived, their wagons and handcarts weren't ready and it was July before they could begin their journey. They traveled to Winter Quarters in Missouri and then set out for Salt Lake. They had to cross the Platte River several times, and the last time there were chunks of ice floating in the water. Some were too weak to even attempt to cross a deep icy river and sat down, where they died. Others, including the Pucells, braved the water. However, the girls' mother became very ill from doing this and had to be placed in the wagon. Their father, although weak and thin from lack of food, tried to pull the wagon up the steep hills himself, with the girls pushing the back of the wagon.
When it came time to cross another stream, again icy, the father fell. He managed to get back up but died on the other side of the stream. Now there were only the girls to care for their mother and manage the journey. Their mother soon died also and the girls were orphaned. Despite their broken hearts and the fear they must have felt, they kept right on going, managing as best they could with whatever help was available, until rescuers came. Then they continued on, still struggling in the icy cold, although at least with a little food and warmer clothing to help them. Everyone had been hungry for so long they were dangerously thin and weak.
The girls had frozen arms and legs. Ellen had to have her legs amputated at the knees—and because the Saints were newly arrived, they didn't have proper tools or even anesthesia. Can you imagine having your knees amputated while you're still awake and without pain killers? This didn't stop Ellen, though. She went on to marry and have a large family. She spent her life in pain, because her legs never healed properly, but was never heard to complain. Without the wheelchair she might have had in modern times, she learned to get around on her stumps and to devote her life to helping others.
Life can be hard. A lot of times, our trials are not our own fault, but we still have a responsibility to follow the examples of these teenagers and make something of our lives. We can learn to endure our trials and to find our proper place in whatever life we're given.